Today was going to be the day that I posted an update on my progress in 2011 and my targets for 2012 but what do you know, this just came up.
I have managed to lay my hands on two brand-new Kodak Zx5 video cameras and I wondered if anyone wanted a bargain?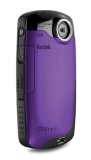 You may have already seen me raving about the Zi8 and it's usefulness for internet marketing work and the Zx5 takes that to new levels by adding a more rugged exterior which waterproofs the beast down to 3 metres – something which I could have used personally in some hot springs in Iceland over Christmas (more on that later!)
I'm going to put these 2 cameras up on ebay for £95 each in the next couple of days, but I thought I'd offer them to anyone interested on my blog first. If you are and you're in the UK, you can grab them for £90 each (which is cheaper than any price I've found in the UK so far) – just let me know, I'll put a proper contact form page up today, but you can always get me at "firstname@firstnamelastname.com" – you can probably work that out.
I'm going to postpone my planned post until tomorrow just to let this one remain visible for a bit longer.